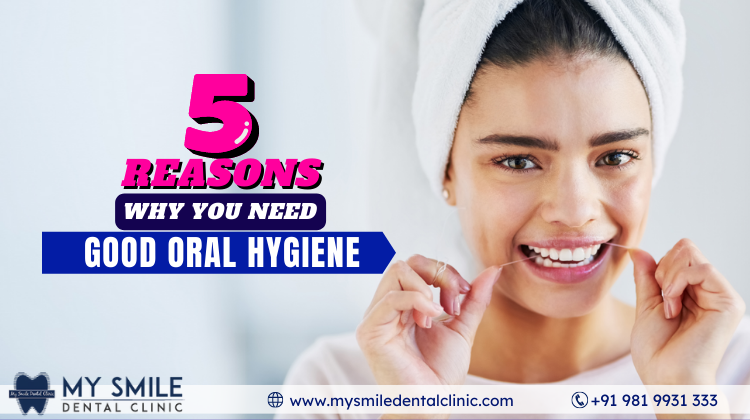 We all know teeth are important and so is taking care of them. But if you still think about why you need good dental hygiene then we have 5 good reasons why you should follow a good and healthy dental hygiene routine.
Let us start with a known and a simple one
1. TO HAVE A CONFIDENT SMILE
A smile is the first thing you observe in anyone. A healthy smile and fresh breath can give you the confidence to face the world.
2. ORAL HEALTH AFFECTS OVERALL HEALTH
Oral health is linked with the health of our internal organs. Your oral health can affect as well as help in detecting heart problems as well as diseases related to other internal organs such as
Bacterial Pneumonia
Infective Endocarditis
Pregnancy Complications
Low Birth Weight
Cancer
Sepsis
Having regular dental visits to ensure a healthy mouth can help prevent health-related complications.
3. PREVENT ORAL DISCOMFORT
Not having a good oral hygiene routine and regular check-ups can lead to plaque buildup and cavities. When the cavities turn into infections and reach the root of the tooth it causes pain and discomfort. And this will lead to the need of getting root canal treatment.
Reluctance in dental hygiene can also cause bad breath and gum diseases. When ignored can turn severe.
4. PREVENT TOOTH LOSS
One of the most common reasons for tooth loss is poor dental hygiene. Plaque buildup caused by poor oral hygiene may result in severe tooth decay or gum infection which, in turn, may cause tooth loss.
Regular and proper brushing and flossing can help reduce plaque buildup. However, brushing and flossing are not enough to ensure that your oral health and hygiene are in top shape, it is best to schedule a professional dental cleaning every six months. This is to ensure that the hard-to-reach teeth and gum lines are plaque and tartar-free.
5. EARLY DETECTION OF DISEASES
Regular dental visits will make sure there are no severe dental or other physical issues. Many diseases can have symptoms related to your teeth and mouth such as swollen gums, bleeding gums, ulcers, or even bad breath. Your dentist can interpret the signs and symptoms and can lead to early detection and early treatment.
Take care of your mouth as it is the gateway to your health.