Do you have crooked or crowded teeth and still avoiding braces thinking that it will look ugly on you? Relax! You can achieve your desired smile with our invisible braces in Andheri West, which are very convenient to use.
Since most teens, college and office going adults want their teeth straightened, there is an advanced option available for braces known as Invisalign.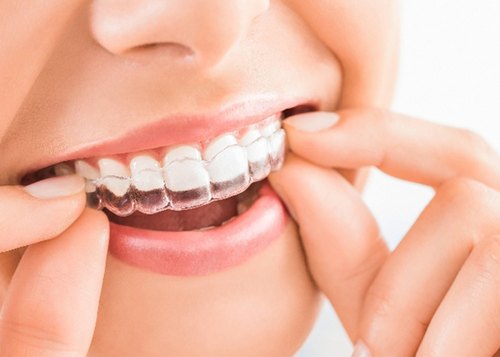 What Is Invisalign?
Invisalign are a clear set of hard plastic aligners that can easily fit to your mouth and are used to straighten your teeth just like braces. Invisalign applies gentle and constant pressure to move your teeth in the required position without metal wires and brackets.
How Invisalign Works?
Invisalign are custom made with the help of a digital scan. This is done by digitally capturing your teeth impression and processing the information using specialized software. The future straighter teeth are then computed and the machine automatically fabricates the set of trays for you. On an average, you may need 25-40 sets for complete alignment.
How Is It Different From Regular Braces?
Invisalign are invisible and one cannot spot them easily, hence they are popularly known as invisible braces.
It is very much removable. You have a freedom to remove it while eating, brushing or flossing.
Since you can remove it, it gets very easy to maintain routine oral care for your healthy mouth.
It has got a high level of comfort as it can fit smoothly on your teeth.
It takes comparatively less time than regular braces (varies from case to case).
What Care You Should Take With Invisalign On?
Though it is a very comfortable option for straightening your teeth, you should also consider certain things while you have your invisible braces on.
Wear your invisalign for at least 20 hours a day for better results.
Remove them while eating, brushing your teeth, never have them on especially when you are eating something hot.
Keep them clean, the way you brush your teeth, brush them too.
Keep them safe in a box provided by your orthodontist.
Post Treatment Care
1.Use a retainer advised by your orthodontist to maintain your smile.
2.Do not munch on hard or too crunchy food for a few days.
3.Brush your teeth twice a day and maintain good oral hygiene.
4.Make sure you visit your dentist every 6 months to ensure your smile remains intact.
Many people find these invisible braces highly convenient but remember what works for others may not work for you, and it's vital to ensure that Invisalign is the best option for straightening your teeth. To find out if Invisalign treatment would be the best option for you, visit My Smile Dental Clinic, Andheri West, Mumbai, India and talk to our experts!