Missing or damaged teeth? You will be amazed to know how dental implants at My Smile Dental Clinic, Andheri West, Mumbai, can make a difference.
Ignoring the problem of missing teeth doesn't help. It affects your facial aesthetics, difficulty in chewing, speech issues, bite irregularities, bone loss and has many such other complications on your oral and overall health.
There are many tooth replacement options and as you analyse those options, you will learn why dental implants are today's topmost solution to the problem of failing or lost teeth.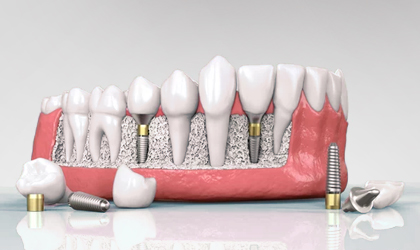 What are dental implants?
Dental implants are the gold standard for permanently replacing missing teeth or teeth that are badly decayed or damaged. Dental implants are made up of biocompatible titanium that replaces your natural tooth's anchoring roots.
Understand clearly, when you choose dental implants, you are replacing your tooth roots with tooth posts made up of metal. These are like screws for artificial teeth which look like real teeth.
How are the dental implants placed?
The procedure of placing implants will depend on the implant that you need and the condition of your jaw bone. You may have to undergo certain dental procedures to prepare your jaw bone to heal properly around the implant.
1.Initial Evaluation:
Our dentist will first do a comprehensive clinical examination to determine your jaw bone condition and the best dental implant procedure.
This involves X rays, medical history, blood reports and radiographic evaluation including radiographs and CBCT records of desired areas. And depending on your condition, you may ask to take antibiotics before the procedure to avoid infection.
2.Tooth Extraction:
In case if you have remaining tooth that needs replacing, it will be removed before the dental implant procedure.
3.Inserting the dental implant:
The implant is inserted into your jaw bone. Your jaw bone needs to be very strong to protect the implant as there is a lot of pressure when you chew or eat. After the implant is added to your jaw bone, it will begin to grow around the implant and later the implant becomes a part of your natural gum line.
4.Placing abutment:
Once your implant is stable, our dentist will place an abutment on the top of the implant. This will connect the implant with the crown. It needs to be tightened well so it stays in place when you eat.
5.Adding permanent crown:
Once the gums are healed our dentist will make an artificial tooth or crown and will add it to the abutment to give you a naturally looking tooth.
You can choose your crown from following options:
Porcelain fused to Base Metal crown/bridge.
Porcelain fused to metal crown (CAD-CAM designed) "Screw retained"
Zirconia (Metal free Crowns)
Zirconia (Metal free Crowns) "Screw retained"
You won't feel any pain during this procedure, only a little pressure. You will get a local anesthesia to that area.
Treatment Options with dental implants:
A) Based on the number of teeth:
Single Tooth Replacement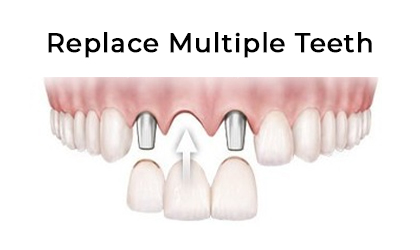 Multiple Teeth Replacement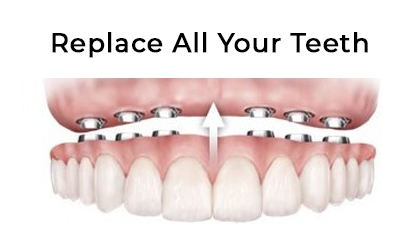 Full Mouth Replacement
B) Based on the technology & time:
1.Immediate Loading Dental Implants (Single Visit):
This technology gives an immediate solution to tooth loss. It is also 'Teeth in a day'. Whether it is a single tooth or multiple teeth or all teeth missing, there are multiple restoration options available depending on your requirements, and the restorations (crowns, bridges) are completed within a few days' time.
2.Conventional Dental Implants (Two/Multi Visit):
This is a method that usually takes two dental visits of 7 to 10 days each. The implant treatment involves two stages with a time interval of approx. 3 to 6 months between the two stages. In the First stage, the dental implant is placed after clinical and radiographic evaluation. In the Second stage, impressions are made and artificial teeth crown is fabricated and fixed in three to four sittings. (total 8-10 days)
Why to choose dental implants over other replacement options?
Dental implants at My Smile Dental Clinic, Andheri West, Mumbai, are truly amazing as they are custom designed to give you the natural look and feel of your teeth with high durability and the highest success rate, that can last a lifetime.
It works just like your natural teeth that you can brush and floss. Mainly it prevents bone loss, and you will not experience the sunken facial appearance caused due to teeth loss, as you age.
So, what are you waiting for? Get your appointment today and discuss with our experts what is the best implant option for you.