In the All on 4 dental implant technique, the upper as well as the lower set of teeth are replaced with only four implants. These four implants take the shape of a support mechanism for the new fixed teeth set.
ALL ON 4 dental implants through our adept dental surgeons in Andheri west has a high success rate among the patients.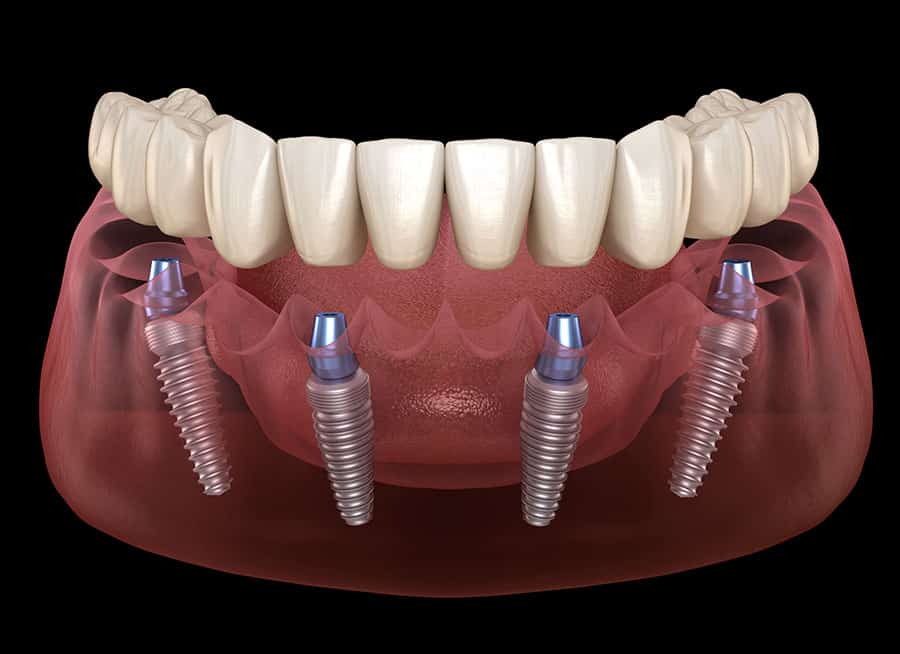 ALL ON 4 DENTAL IMPLANTS
In the case of ALL ON 4 dental implant procedures, our dental surgeon at the Dental Clinic, Andheri west will tilt the posterior implants at an angle of 45 degrees to the rear direction of the mouth and the placement region is anterior maxilla. This is the area of the jaw comprising higher bone density.
In comparison to the other dental implants, the ALL ON 4 technique does not need the same bone density for the safety of the implant.
Conventional implants and ALL ON 4– comparison
In conventional dental implant procedure, full arch rehabilitation requires six to eight implants for supporting the full fixed bridge. But for ALL ON 4 implants, only two implants are placed at the front of the mouth and two angled implants are placed at the back. For full arch support, our dental surgeon at MSDC will place only 4 implants.
Less invasive nature of ALL ON 4
ALL ON 4 dental implants have a less invasive nature because of the short time duration of the process related to healing and rehabilitation. This process makes use of fewer implant fixtures. There is extra flexibility when it comes to the design and fitting of the optimum replacement teeth.
All ON 4 dental implants at MSDC are a better choice if:
The patients have a have the oral health issues
If there is a lack of upper jaw, you do not need bone grafting. Patients with osteoporosis can go for the procedure.
Sleep dentistry
Our oral specialist at Andheri West clinic will make use of sleep dentistry for ALL ON 4 procedures in case you are scared. You will be provided with a distinct combination of drugs for putting you in a calm state during the entire implant procedure.
Issues that can occur
Poor positioning of the implants. This can impact cosmetic outcomes.
To prevent issues, get the ALL ON 4 procedure accomplished by a dentist who is surgically trained and not one who is specialised in cosmetic dentistry.
Cost factor
The cost factor for ALL ON 4 dental implants depends on the clinic and also the overall oral situation. It will be decided after the diagnosis by the oral surgeon at MSDC.