Experience best crowns and bridge treatment in Andheri West, Mumbai at My Smile Dental Clinic. crowns and bridge treatment is a traditional but trusted restorative solution.
A single crown restores imperfect or damaged teeth, and two or more crowns restores missing teeth as a dental bridge. The crown is also commonly called a 'cap' that covers the weak or damaged tooth undergoing treatment to restore its shape and function.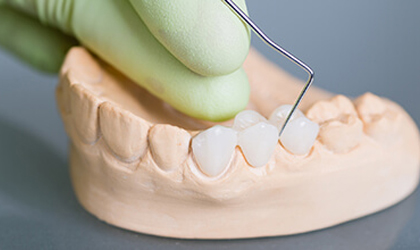 It is a tooth shaped covering and can be customised to blend perfectly with the surrounding natural teeth.
The dental bridge acts as an anchor to fill up the gaps between the teeth. The dental bridge composed of two or more crowns fills the space in between to restore your ability to eat, speak and smile confidently. It also prevents the surrounding natural teeth from getting away from the place.
When Do You Need Dental Crowns?
It is needed to restore or protect your tooth from facturing due to some injury or accident. It also acts as a cap over your dental implant or root canal performed tooth. It is also needed to cover discolored or badly shaped teeth.
Dental crowns give your tooth shape, size, strength and a good appearance. It looks exactly like your natural tooth and are more stronger and has longevity. But that doesn't mean you can ignore them while brushing and flossing, even though these crowns are artificial, made up of metals, the tooth underlying the crown can decay.
Therefore it is required to maintain good oral hygiene and keeping your teeth clean and healthy with proper brushing and flossing.
Things To Keep In Mind After Wearing Crowns
Do not use your teeth as tools, as putting more pressure can damage your crown.
Avoid eating too hot or too cold food to prevent sensitivity.
Avoid eating too sticky food, chewing on hard ice candy.
At My Smile Dental Clinic, Andheri West Mumbai, you can choose your crown from the following options:
Porcelain fused to Base Metal crown/bridge.
Porcelain fused to metal crown (CAD-CAM designed) "Screw retained"
Zirconia (Metal free Crowns)
Zirconia (Metal free Crowns) "Screw retained"
You may find Dental Crowns more expensive than fillings, but they have the advantage of lasting longer. At My Smile Dental, we ensure that our patients always get the best quality treatment and value for their money. For more information about crowns and bridge treatment, contact us at My Smile Dental Clinic, Andheri West, Mumbai, India.