Dental veneers are custom-made shells that suitably fit your teeth for the enhancement of your appearance as well as your smile. Also known as a smile makeover, treatment by dental veneers in Andheri west by adept dental specialists is a big success.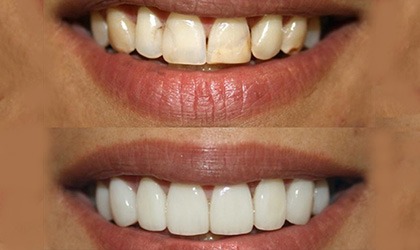 Dental veneers as the cosmetic dental procedures
Veneers have the potential to alter the length, size, shape, and color as well as the functionality of the tooth and are considered cosmetic dental procedures. Dental veneers have the potential to mask crooked, discolored as well as damaged teeth.
For the potential advantages and disadvantages of dental veneers, you can consult our dental specialist at MSDC. Know that veneers do not just improve the appearance but also alter the bite and change the functionality. Dental veneers are a great option if you have tooth gaps, deep stains as well as the chips.
Veneers -Types
Many veneers are permanent and you cannot remove them after placement. If you have cavities or gum ailments, you can go for restorative dental procedures rather than veneers.
Treatment for the dental veneers in Andheri west is provided for the following:
Porcelain veneers
Our dental specialist at MSDC will fit the porcelain veneer. This resembles the color of the tooth and is not just versatile but custom-made as well. It can last up to 15 years. Because of the ceramic materials, such veneers have high stain resistance as compared to composite veneers.
Advantages
Relatively conservative
Minimally invasive in comparison to the alternatives like crowns
Biocompatible meaning the gum tissue as well as other soft tissues do not have a negative impact
Procedure at MSDC
Our dental specialist will choose the tooth shade that matches the adjacent teeth
Reshaping of the tooth to accommodate the veneer
Taking the impression in the dental laboratory
Placement of the temporary veneers at the time of the initial appointment
Cleaning and etching of the tooth with the help of the acidic material for toughening the tooth surface
Application of the special ointment helping the veneer to stick
Hardening of the cement with the help of the blue light
Removal of excess cement
Check the bite
A follow-up visit in some weeks
Other veneer treatments at our dental clinic in Andheri are for:
Composite veneers
Palatal veneers
Lumineers
Removable veneers
Some of the risk factors involved are:
Please note that if the sensitivity exceeds three months, there could be an underlying issue.
Irreversible inflammation of the tooth nerve during the procedure
There can be damage to the tooth but it is not common.
Cost factor
The cost factor for the dental veneer treatment in Andheri west will depend on the type of veneers and the complexity of the mouth. The cost of porcelain veneers is more.