Veneers are ultra-thin, custom-made porcelain laminates that are bonded directly to the teeth. Veneers are enormously versatile. They are used to line up protruding & crooked teeth, fill gaps or lighten the colour of your teeth which does not respond to whitening. The appearance, longevity and strength of porcelain veneers are similar to natural teeth and they're perfect to make lifelong alterations to a smile in short time.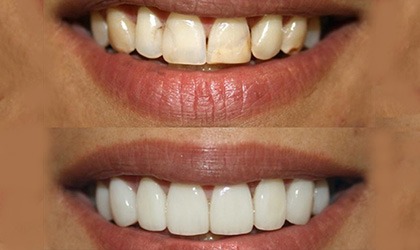 Porcelain veneers are used to mask a single dark tooth but more often are used as part of smile makeover. At the My Smile Clinic, our smile makeovers start with professional consultation where we diagnose about modifications our clients may require to enhance their smile.
We fabricate and schedule a mock-up trial according to the patient requirements.
After consent from the patient, Porcelain veneers are provided as planned over two to three appointments. During the first appointment the teeth are prepared to receive the veneers. This procedure involves trimming a thin layer from the front surface and biting edge to make space for the veneer. All treatments are carried out using pain-free anaesthesia.
Porcelain veneers are then fixed during the second appointment. Our veneers are fitted with a multi-layer bonding system that links the veneers to the teeth with unmatched strength. The veneers are polished, and bite checked before they are revealed to our patients. We follow up with our patients a few days later to cross check on the veneer comfortability for daily routines.